Your smile affects your confidence
Posted by Dr. Daniel A. Nickles on Mar 18 2019, 10:19 AM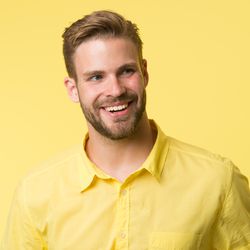 Smiling is the best way to express one's happiness and greet people. A simple and genuine smile goes a long way, and we, as dentists, make sure you put on your best smile. After all, it is said that one isn't fully dressed until they wear a smile!
The importance of a beautiful looking smile
Have you ever looked at someone's beautiful smile and wished you had something as good? Everyone likes to have a great smile, as it makes us more confident while interacting with people and enhances our overall appearance. Whether you're having an important professional meeting, a much-anticipated date, or just a casual outing with your family, your smile plays a major role in your interaction and can say a lot about your confidence levels.

A confident smile for a better first impression
As the saying goes, the first impression is the best impression. When you interact with someone for the first time, your smile sends out a strong message about yourself. The more natural and warm your smile is, you would seem more approachable and relaxed, which is something everyone expects during a first meet. Also, you would make yourself feel more comfortable and confident without even knowing it.

The science behind a smile
Several studies performed on different groups of individuals have shown that a simple smile can subconsciously alleviate mental pain and soothe one's state of mind. Certain hormones called the endorphins, or commonly known as the 'happy hormones', are released when we smile.

Even when you don't smile naturally and force it upon yourself, you stimulate the same areas of the brain that are engaged when you smile wholeheartedly. In simple words, you fool your brain to release the 'happy hormones', which naturally makes you feel more calm, confident and positive.
Get a smile that's contagious
Everyone would love to have an attractive smile. But, it is easier said than done as issues such as discoloration, tartar accumulation, cavities, tooth loss, malocclusion, etc. ruin the aesthetics of the smile. Our amazing cosmetic dental options can give you a smile that you've always dreamt of having. Our dentists would carefully analyze your condition, come up with a customized treatment plan and implement it to perfection. At the end of the treatment procedure, you would have a beautiful smile that would draw attention and send out a positive vibe to the people around you.

What can we offer you?
Our range of cosmetic solutions curated to give you the perfect smile includes restorative services such as dental crowns, veneers, inlays onlays, etc. In the case of missing teeth, we can effectively replace them using dental bridges, implants or dentures. Teeth whitening is one of the most sought-after procedures to get bright and whiter looking teeth. Depending on your condition, we would draw out a treatment plan for you that would meet all your dental needs.